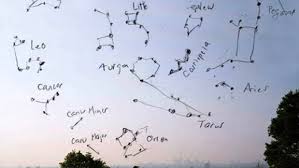 "I will miss you."
Things rarely said become more effective when said.
"And I'll miss the bambini."
Well, of course, but that gets said more often.
We're now into day 3 of at least 16 days. At least 16 because, as yet, we don't know (or, rather, I don't know and he may or may not know … yet) if he'll be required to stay in London for a day or two when he gets back there.
I followed the flight. Most of the flight was over Russia. Russia is a very big country which, although I knew that, following the flight and hours and hours of flying over terrain without towns and hardly any names to rivers and lakes (or seas), I appreciated it more.
Apparently he slept little and watched four films. The flight was over 11 hours. He is seven hours or so in front. As I write, it's about 6.30 p.m. for him and not even lunchtime for me.
Of course, I've been busy. His cousin's son and his girlfriend came to see Expo and stayed with us. Except he was only there for the Thursday night when they arrived. They stayed until Sunday. So, really, they stayed with me and not us. It was OK. They were at Expo all day Friday and then all day and into the evening on Saturday.
On Sunday, after breakfast, I tried to tell them how to go to the new Porta Nuova area but it was difficult to explain with my bad Italian so I offered to take them. I did my usual walk from there down Corso Como, Corso Garibaldi and into Brera – then we took a tram to the centre of Milan and I left them there. I think they were grateful.
F just phoned me. He has to phone when he can which is not that often since he doesn't want to run up a huge telephone bill. It's OK. These snatches of conversation are better than nothing.
I will be quite busy over the next few weeks – also because he's not here – and that will make the time go really fast. Plus I have a load of films to watch so it's not all bad. It just gets a bit exhausting – getting up earlier to take the dogs out, doing everything that needs doing, etc. But it's OK.
He is working too and won't get so much time to go and visit the cities he will be in. It won't really be a walk in the park for him.
But, I will be so happy when he's back and, from his comment, so will he.
And, as I replied to him – "I'll miss you too."