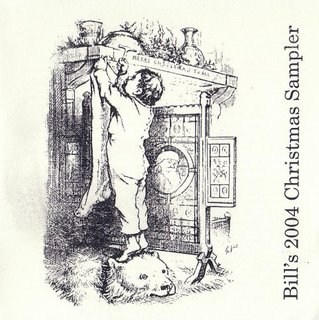 Urgent cry for help! I have finished all my Tetley tea-bags (you know, the round ones that come in a blue packet). I still have a few nice ones which are free-trade ones from the Hay Festival – but only about 5. This means I won't last the week out. Does anyone know how I can get hold of some in Milan? I'm afraid that tea here is far too weak, whereas Tetley round ones do the trick perfectly.
I've also found out that not everyone received their Christmas card. There were three cards going to the same address (two were for the two kids). One card arrived a few days before Christmas, one arrived a few days after Christmas and one has yet to arrive. Now, they were all together because I wrote them, one after another and they were posted on the same day in the same post box. How can this be? This is very annoying as it means that there may be other people who don't think that we sent them a card when we did! And I got the stamps especially. So, if you haven't got yours yet, read this and you will see that you could get yours any time.. oh, I don't know,…. before hell freezes over?
I also need to update you about the fabulous (or not) Ecopass and certainly for Alex Fear. I previously mentioned it here and jump the gun a bit. Traffic, by Wednesday, was almost back to normal – except in certain places, where it is definitely quieter. However, overall, it seems it is no quicker to get home than it was before Christmas. As I said in one of the other posts, once the Milanese realise that they can get closer into town, I am expecting it to return completely to how it was before. I also saw on the Commune (Milan Council) site that they are increasing the frequency of certain buses and trams, including ones that we regularly use. This is excellent news. At the weekend, we use public transport, except when our Milanese friends decide to give us a lift in their car.
Anyway, if you want another take on it, by someone who doesn't use a car and lives as close to the centre as we do, go to Alex's Blog From Italy.