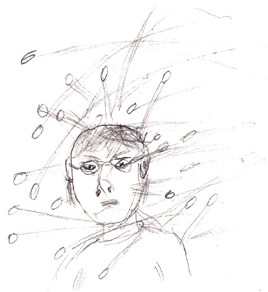 Last night, for some strange reason, I did not sleep well. It seemed (although it is probably not true) that I woke up every half an hour or so and so, this morning, feel like …. well ….crap!
It's as if I have had a hard night's drinking or something.
My mind feels like it is still at home whilst my body is definitely here, at work. I cannot concentrate on anything and even writing this is a struggle and may make little sense to me tomorrow.
Worse still, clients are due today. I dread to think what rash promises I may make or even if anything that I utter will be decent English or intelligible in any language. Thank God that English is their second language!
Yesterday we had a late lunch with N&S at which N made Mexico's national dish. It was turkey with a thick brown sauce. It may not look so appetising on first glance, the turkey (or chicken) being pale white and the sauce a rather sickly looking dark brown colour) but it is absolutely scrummy. And it contains chocolate!
By the way, the lunch and the not sleeping bear no relationship to each other. Trust me.