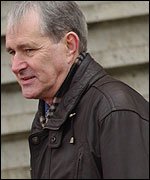 D telephoned yesterday evening to say that John Prosser, his father and a great man, died on Sunday, 23/4.
He was a first-class guy and friend who will be sorely missed.  Of course, I was crap at keeping in touch – but then, we are/were blokes, so what do you expect.
He had suffered with cancer for some time and had been through one bout of chemo, which, sadly, had not done the trick, however, he was due to go onto another course of an experimental kind and, in fact, had started it.  But it was just too strong.