Italy still has the power to surprise me, even after all these years.
In this case it's food (again).
So, for the last 5 years or so, I've been going down to the Tuscan coast a fair bit, especially in the summer. Of course, we have often eaten at someone's home – real Italian home-cooked food. And, more often than not, it is delicious. There are things that F likes a lot and, as it's his family, he gets what he really likes. I've never really paid much attention to it other than to like it and eat it. There are things I like less than others, of course.
For example, for breakfast, I usually have a pastry which has apple in it. F usually has the rice one. We don't seem to see them in Milan but, to be honest, I never thought much of it. They are flat pastries, similar, in a way, to Eccles Cakes (i.e. a kind of flaky pastry thing) – but mine is filled with apple and his with some rice filling (although I've had it and there aren't any bits of rice as you'd expect.)
So, this weekend just gone, we had visitors. One of his close friends from school/college and her boyfriend. Originally, they were coming to go to Expo (which, incidentally finishes on Saturday) but they couldn't get up until Saturday afternoon so, instead, we went for a walk in the Porto Nuova area (the new area of Milan) and then on Sunday went to the Castle to see some exhibitions/museum things they have there.
The strange thing was that they were coming to stay one night (and not even 24 hours) and yet his friend (she is An2) was bringing the food for Saturday night. It all felt a bit wrong. She is, however, a wonderful cook and every summer we go to her place for an evening meal at least a couple of times. She always makes stuff that F really likes and there is always too much food.
Still, it all seemed wrong that they, as visitors, should be bringing the food.
We were going to be having lasagne and torta di riso.
So, on Friday, I mentioned to someone at work that they were doing this and got a blank expression when I mentioned the torta di riso. I had always assumed that every Italian would know about this. Basically, it's a little like egg custard tart (which I love anyway and, as an aside, was one of my choices from the bakery when we had treats on a Friday when I was a kid) but, instead of a pastry base, it has a layer of rice on the bottom.
I tried to explain it (but it's difficult if egg custard tart is not a point of reference.) But I then learnt that the food I've been getting in Carrara is local to Carrara! I don't know why I've never really thought of it before. I mean, I had the apple and rice pastries which, to be honest, should have given me a clue since I've never seen them anywhere else!
So, I asked F about it. He explained that, yes, torta di riso was quite local. Even in Sarzana, a few miles away, they make torta di riso in a completely different way and, certainly, with many less eggs!
But, even the lasagne was different. Lasagne is known throughout Italy and the world but this is "open" lasagne (called lasagne sfordellate) and is basically small squares of pasta with a meat and tomato sauce. The pasta isn't arranged in any way, it's just like having spaghetti bolognese but using, square bits of pasta instead.
I remember having it a couple of times down there and I remember thinking, at the time, that it was strange that they called it lasagne (especially strange since lasagne also includes bechamel sauce, which this doesn't have.)
As usual, the stuff she did was out of this world. The lasagne sfordellate was divine, the meat seasoned with herbs and spices and cooked in the tomato sauce.
The torta di riso was also divine, as usual. I learnt some things. 1. They use eggs (and I mean A LOT of eggs) when they do this tart with egg custard and rice. In this case, she had used 14 eggs! 2. It is baked in the oven (at 180°C) for 3 hours. Yes, THREE hours! And, on Sunday, was the day that I realised that the apple pastry and the rice pastry is not universal in Italy as she wanted the rice on and, of course, we couldn't get it here (or, rather, we don't know where one could be found.)
Of course, even in the UK, we have slight regional differences. For example, tripe is something I would only expect to find in the North West of the UK. But we're talking a few things. Here, in Italy, there are so many things that are specific to a region.
So, here are some pictures, only one of which is the actual thing we had. The picture of the torta di riso is from someone's blog where they only used 12 eggs, so, obviously, inferior

Egg custard tarts (although you can have a big one too)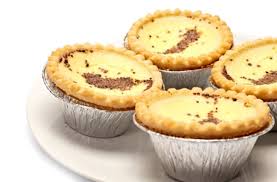 Torta di riso (I've never seen individual ones)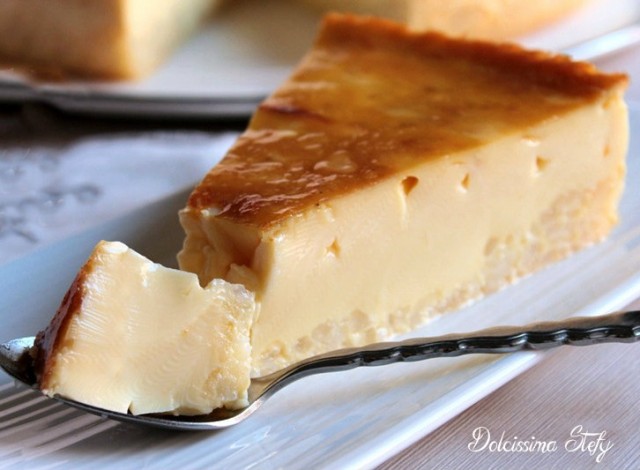 Lasagne sfordellate with An2 as the model. Bless here. She's promised to do me lamb with roasted potatoes when we go down again. Can't wait!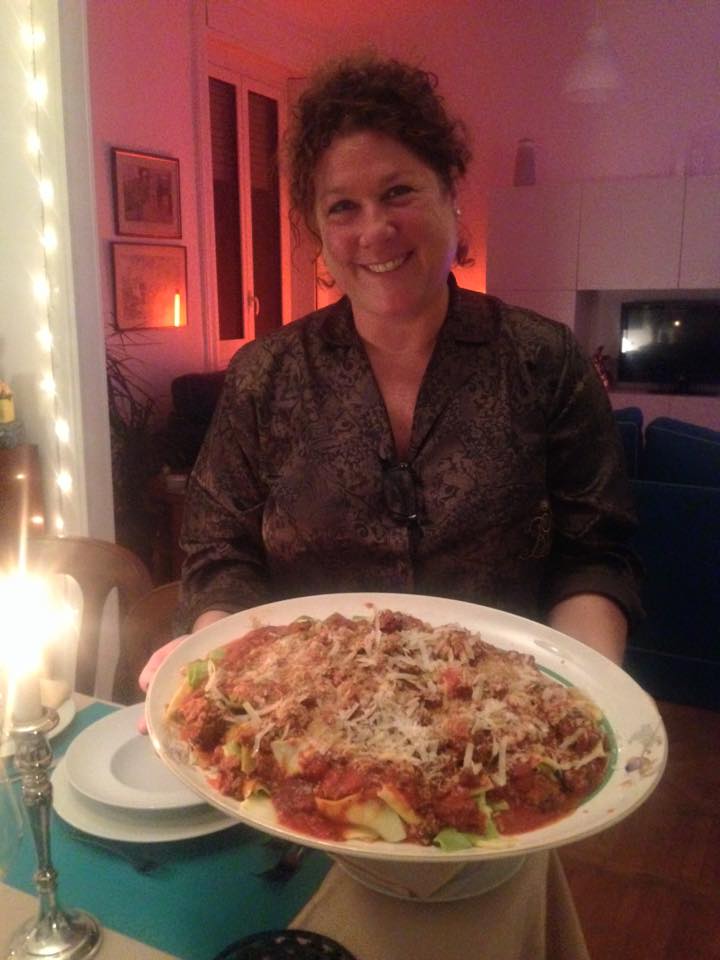 I have to say that I appreciate these foods we get in Carrara much more now. I understand the joke about the number of eggs better. I now know how much trouble they go to to create these dishes. Now F has the recipe for torta di riso so I expect one to be coming soon ………