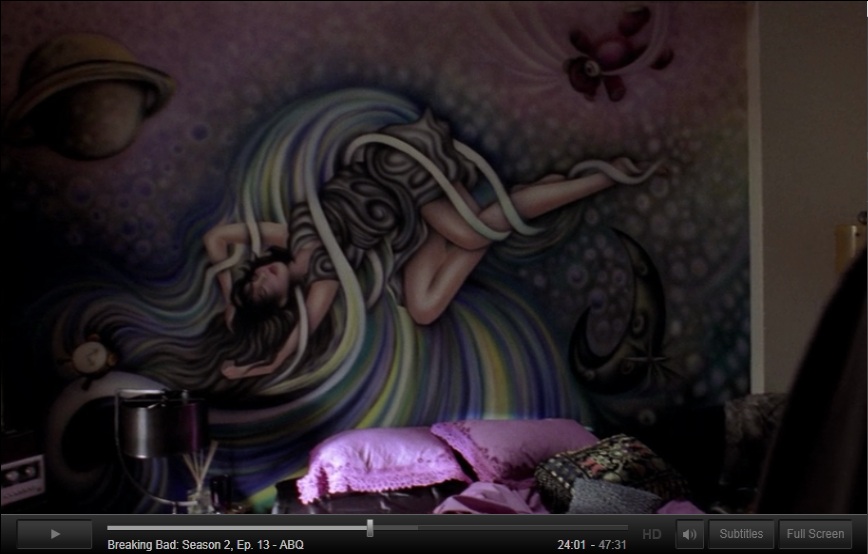 He had died, apparently.
His dad said something to me about "not wanting to bother me" or somesuch thing. I cried. It felt wrong that they hadn't told me. I was upset, for sure.
Earlier, we'd been watching a film. It was a cross between a thriller and a horror movie.
There had been a teddy bear which something embroidered into it. I asked F what it had been on the teddy. He told me it was an "M" (or was it "em"?) When it had been seen, everyone's eyes went pink, including the teddy bear's!
Some kids were playing in their room. It reminded me of Peter Pan. Four kids of different ages, jumping on the beds as if on trampolines. It could have been on stage. It may have been on stage – the camera angle being from below and to the front of them – as if outside the room – there was no wall or it was as if the wall wasn't there being the front of the stage.
Their mother called them for tea. They ran off. The teddy bear was on the floor, near the nightstand, in front of the nightstand and had a sting of pearls around it or, at least, a necklace with beads. It was dark in that particular corner. A hand reached out from under the bedside table and pulled the teddy bear back underneath, breaking the necklace and, so scattering the beads/pearls over the floor. They rolled around noisily.
I got up to go to the bathroom. I asked F if, in fact, I had asked him this question. He said "No." It had been a dream that I was awake and half-watching the film whereas, in fact, I was asleep and, most probably, fitting the dream to the sounds of the film.
And, then, later. When he died.
And I don't quite remember whether it was afterwards (after I had got up to go to the bathroom again) or during the dream that I had had the keys to the flat given to me because that was what he had wanted. And I remember the special teddy bear I had bought him years ago – a limited, numbered edition, with wire-rim spectacles and a rolled up certificate. It had been sitting on the small, child's chair in the hallway. And I didn't even, at the time, have any reason to look and less to remember and, yet, I did and had remembered.
And was it during the dream or after I had woken that I was torn between wanting to be the beneficiary of the will and wanting to wash my hands of everything because being a beneficiary was also being responsible for all the shit he had left behind.
In any event, I was upset and I cried more than once (but that was definitely in the dream.)
And, for certain, when I was awake, I didn't want it to happen – to have happened. For all sorts of reasons.
And, I wonder, when will I be able to shake him (and the problems and issues he brings) out of my life?
I don't know if I really did wake so many times to go to the bathroom or I dreamt it. These were just two of the dreams I had last night. There were others but I don't remember them.